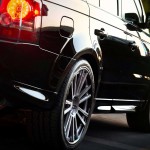 If you're looking for a Land Rover garage in Wilmslow, make sure you entrust your precious set of wheels to a reliable and reputed one! The Land Rover is among the most popular vehicles in the world and the unique thing about it is that you can find a 1940s veteran that's been around since the brand first made its debut, and the latest model sharing the road sometimes. That's because nearly 75% of all vehicles manufactured since the company began operations are still road-worthy. Land Rover's world-wide sales and service centers along with a huge network of authorised service centers and garages keeps these sturdy vehicles in mint condition all over the world.
In Wilmslow, Land Rover garages like Premier Garage Services offer a range of services, from general servicing, tyre and wheel balancing to repairs and MOT servicing. Today, many changes to the European Union block exemption have resulted in garages like these being allowed to provide services without invalidating the manufacturer's warranty. They can also provide state of the art diagnostics and repairs, using the latest software and equipment to spot and fix problems before they begin to do any damage to your vehicle. Some garages also offer pick-up and drop-off services at no extra charges to loyal customers. Many Land Rover models are famous for being tough, all-terrain vehicles, and they've served in many types of terrain, providing military and humanitarian support. Other models are sleek and classy, but strong and enduring underneath.
While selecting a Land Rover garage in Wilmslow, spend some time and effort conducting your own research. Often, smaller, family-owned garages may provide a better-quality, more personalised service while large international franchises may be a bit more impersonal and expensive. Some countries have garage ratings but it is worthwhile conducting your own checks before you select the one that's right for you and your vehicle. Many local garages offer good deals for loyal customers. It's also good to remember that an authorised garage is good for a younger car, while older vehicles would be better serviced at a good local one. For more information about a Land Rover garage, contact Premier Garage Services.