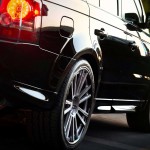 Do you know why it's important to conduct regular Range Rover servicing in Knutsford? The amount of car maintenance servicing required depends on the make, model and year of your Range Rover, as well as the driving behaviour and driving conditions. The frequency of car servicing should be based on parameters such as distance travelled per day or frequency of trips, extreme cold or hot climate conditions, driving on dusty, mountainous or de-iced roads, long distance cruising or heavy stop-and-go and regular towing of a heavy road. Even if you do not drive in such conditions, an annual servicing is still recommended, usually after you have travelled a certain distance. After a servicing procedure is completed, it is recorded and rubber stamped in your car service book. Keeping an updated service history will increase the resale value of your vehicle.  Where should you take your vehicle for servicing?
If you reside in Knutsford, Range Rover Servicing is available from Premier Garage Services. We are experts when it comes to dealing with Range Rovers and Land Rover models. Our team has nearly three decades of expertise, so you can rest assured your vehicle is in good hands. Our knowledge, experience, service and repair quality will help maintain the longevity of your Range Rover. Due to changes in European Union Block Exemption, you can obtain Range Rover servicing from any independent garage. It will not void your manufacturer's warranty nor do you have to shell out hefty costs. At Premier Garage, we carry out all servicing procedures according to the manufacturer's recommendations. All charges vary and are dependent upon the model and make of your vehicle. Prior to the servicing, we will review your vehicle and offer you a quotation. If you decide to use our garage, we will carry out the necessary servicing and stamp your service book. We will also update your Land Rover Digital Service record.
If your vehicle has travelled a certain mileage, you need to obtain Range Rover servicing in Knutsford. Contact Premier Garage Services to book an appointment. Regular upkeep of your Range Rover will prolong the life of your vehicle.