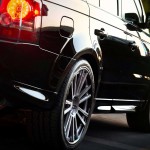 If you are concerned about DPF Land Rover in Wilmslow, speak to Premier Garage. A DPF is designed to collect the soot that is created when diesel is burned, helping to minimise harmful particles that often come from a diesel exhaust. It will burn off any unburnt particles when the engine is hot enough. Diesel particulate filter problems are most commonly caused by the large soot particles left behind after the exhaust gases have passed through the filter. The soot blocks the filter, which then stops the engine from running. As the filter only has a limited capacity, it needs to be regularly emptied to regenerate the DPF. The regeneration process burns off the excess soot in the filter, and this reduces the harmful exhaust emissions.
To stop the filter from being blocked by the soot, it needs to be burned at a high enough temperature which will turn it into smaller ash particles, making it easier to be expelled from the system. In Wilmslow, Land Rover DPF problems are best seen to by a professional as soon as possible. When the cleaning or the regeneration process is disturbed, most DPF problems occur. You will know that you have a problem with your vehicle's DPF as the DPF orange dashboard light will come on. DPF issues are most commonly caused by regular, short, stop-go journeys. If you are concerned about your vehicle's DPF, it is best to take it to a professional garage.
DPF Land Rover in Wilmslow can be checked by our expert team. An important point to consider is that a diesel particulate filter check has been part of the MOT test since February 2014. If the DPF filter has been removed from your vehicle, it will fail its MOT test. If you are concerned about your Land Rover's DPF, contact Premier Garage Services. We are an independent garage service and repair centre and offer a range of comprehensive services to all our clients, at 50% cheaper than the main dealer's. All our servicing and repairing work is carried out in accordance with the manufacturer's guidelines. Our team of the best technicians have been trained in the field and are qualified to work on your Land Rover.