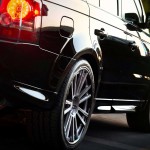 If your engine management light Land Rover Sport in Bramhall begins to flicker, bring your vehicle to Premier Garage Services. Unfortunately, the engine management light will blink or light up for multiple reasons and it is the technicians who will have to investigate the matter and find out why it's really lit up. In many cases, the light will operate to a colour code, where an amber light may mean that you can still drive the vehicle to a safe distance, or at least to the garage, but a red light means that you will need to stop the car.
At Premier Garage Services, we offer top-notch automotive services, including diagnostic tests that will allow us to figure out unexplained issues with your vehicle. In Bramhall, engine management light Land Rover Sport services are best offered by our garage, where we strongly believe that our services are much cheaper than that of the main dealers, at least 40% cheaper. Engine management lights will turn on when there are issues such as faulty oxygen sensors, leaky vacuum hoses, faulty ignition systems, blocked fuel pumps, loose filler caps and many more. To make sure that you are driving a vehicle that is safe and in good condition, bring your vehicle to the garage and our technicians will look into the matter, find the root of the issue with the diagnostic tool, as most vehicles will provide a code once the engine management light has been lit, and our technicians will recover that code through a code reader. And rest assured, all services and repair work will be carried out in accordance to the manufacturer's guidelines, and our teams are well trained in the field and with the different makes and models.
Do not ignore a flickering engine management light Land Rover Sport in Bramhall. If your light is on, contact Premier Garage Services and we will take matters into our hands. We have technicians with 25 years of experience, so rest assured, your vehicle will be in expert hands. A 12-month warranty is provided on all parts and labour, giving you peace of mind when choosing our garage for all your needs!