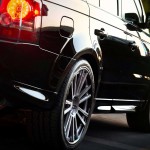 Keep your DPR Range Rover in Stockport in top gear by partnering with the specialists. As an independent garage, we are able to offer more personalised services that are customised to meet your unique needs, preferences and budget. Apart from general repairs, we also undertake tyre and wheel balancing, wheel alignment, full servicing etc. We are also authorised to stamp the Service Book and update your online digital service record where appropriate. At Premier Garage, we have more than a quarter of a century's experience in repair, servicing and maintenance of all the leading auto makes and models. We can service and repair your luxury Land Rover without invalidating your manufacturer warranty. This is due to recent changes in regulations.
For vehicle owners in Stockport, DPR Range Rover may look rugged and tough on the outside but the interiors are plush and deluxe, with sophisticated, state of the art automobile technology under the bonnet. These vehicles are designed for adventure for the discerning driver. They incorporate the DPR (diesel particulate reduction) filter system that regulates and minimises the amount of harmful particulate matter that is emitted from the exhaust. During use, the particulate matter is filtered and retained inside the filter. When the accumulated pollutants cross a certain threshold, the system generates a warning light on the car's instrument panel. At this signal, the system has to be cleaned or regenerated. This is the basic concept, but it varies between different makes and models of vehicles.
One of the issues with the DPR systems is that DPR Range Rovers in Stockport may not be used much for long distance driving. City driving and short runs don't allow natural regeneration of the filter. On motorways, the exhaust temperature gets high enough to burn off the soot collected by the filter. Another process is active regeneration where the engine pumps extra fuel to raise the temperature and help regeneration. Short runs don't provide this facility and the filter has to be removed and cleaned manually. If you need assistance with your Land Rover's DPR, contact us for more information today. Our highly trained, experienced team can help you with this and other issues that may occur in your Range Rover.