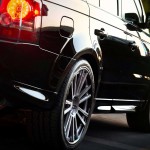 Worried about your engine management light Land Rover in Cheshire? We can put your mind at ease when you bring your Land Rover to our garage. As experts in all aspects of the Land Rover vehicle, our technicians can take a look at your vehicle to try and source the cause of the problem. The engine management light is an effective and useful tool that acts as an early warning system if there is an issue with your vehicle. It is best never to ignore this light if it starts flickering. Ignoring it may cause an engine failure, when it could easily have been rectified before reaching the danger point.
Your Land Rover has this early warning system that is connected to your car's engine control unit (ECU). In Cheshire, engine management light Land Rover is the first indicator of issues with the engine's electronic 'brain'. It controls things such as the fuel and air mixture and the ignition timing to help your vehicle's engine run smoothly. If the engine management light is flickering, it means that there is potentially large problem and the vehicle should be looked at as soon as possible. When you bring your Land Rover to our garage, our experienced technicians will use a laptop to download the codes from the ECU that are created when a fault occurs. In this way, our technicians have a better understanding of what is causing the fault.
An engine management light Land Rover in Cheshire can save on the cost of a huge repair. If it is flickering and you bring it to our garage as soon as possible, the fault can be identified and repaired by our expert team. We are proud of our commitment to providing an excellent service to all our clients at an affordable cost. What is more, you are welcome to take advantage of our free collection and delivery service. This will be a great advantage to you if you are pressed for time. If you are concerned about your Land rover, contact Premier Garage today. Regardless of the size of the problem, our expert team is on hand to diagnose and repair it.