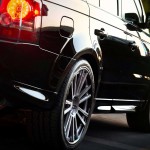 DPF Range Rover in Stockport should be checked and serviced by Range Rover specialists. At Premier Garage Services, that is exactly who we are. We are your local independent garage with over 25 years' experience in the service and repair of Range Rover vehicles. We enjoy a great reputation for honesty, workmanship and customer service in our area. Our knowledge of Range Rover is equal to and may surpass that of your local Range Rover dealer. Our training, experience and specialised equipment are equal to any dealer. What we offer that your dealer can't is prices up to 50% less than dealer costs. Yet, your car receives exactly the same quality of care which we guarantee. We let our customers know they are appreciated by providing exceptional customer service that fits with their schedule.
We're the full service garage you can count on for everything including tyres.  Our services extend to complexities of diesel engines in Stockport, DPF Range Rover presents. Diesel Particulate Filter (DPF) is the manufacturers' solution to the added environmental pollution generated by diesel fuel. It's a brilliant mechanism that not only traps toxic soot left from diesel fuel use, but it cleans itself. The computerised system has sensors to recognise when the filter is full and needs cleaning. That's about every 300 miles. The engine will generate additional heat so the filter can literally burn up the soot. All that is left behind is a wisp of harmless vapour. That vapour is expelled through the exhaust system. All that takes place while you drive without any interference.
DPF Range Rover in Stockport is a remarkable solution to prevent pollution of the environment through the use of diesel fuel. The filter is built to last 100,000 miles. It will probably last longer as long as you've maintained it. The only thing you have to do is make sure the automatic regeneration or self cleaning takes place. If it fails to do so then contact us. We'll determine the cause of the failure. In most cases we can bring about the automatic regeneration. When we can't then we manually regenerate the filter. Once done, it will usually resume automatic regeneration. You don't want to ignore the warnings because it will interfere with the performance of your car and the fuel efficiency.