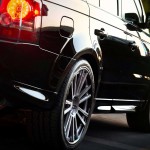 If you are concerned about your engine management light Range Rover in Poynton, you will be reassured when you bring your vehicle to our garage. We are highly regarded experts in Range Rover vehicles and our expert team will look over your car to find the problem. The engine management light is an effective and useful tool. It acts as an early warning system if there is a problem with your vehicle. We advise our customers never to ignore this warning signal. If you do so, it is possible that an engine failure could occur, something that could have been avoided if the light's message was noted.
The Range Rover vehicle has an early warning system that is connected to the car's engine control unit (ECU). In Poynton, engine management light Range Rover switching on is the first sign of an impending problem with the engine. A flashing or continuous warning light can show, and will mean that your vehicle's engine isn't running correctly. An engine management light will light up or stat flickering to remind you to get assistance. We will connect your Range Rover to our state of the art diagnostic equipment to determine exactly where the fault lies. By doing so, our technicians have a better understanding of what is causing the fault. They will then proceed to repair the fault.
Taking heed of the engine management light Range Rover in Poynton can save you from potentially large problems with your vehicle.  While the amber light doesn't necessarily mean that you have a large, immediate problem, it is when it is red that you should refrain from driving your Range Rover. Driving further could potentially cause expensive damage. Contact us as soon as possible if your Range Rover's engine management light is red. We will collect your vehicle and bring it to our garage. Rest assured that your Range Rover will be worked on by our expert technicians efficiently and professionally so we can get you back on the road.  We are proud of our excellent reputation for top quality services, competitive prices and great customer service.