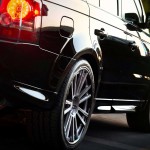 Do not ignore your engine management light Land Rover in Cheadle. If it blinking amber or red, contact us right away. This is used in all newer vehicles that have a computerised engine management system. It is found on the instrument panel of most internal combustion engines and is there to warn of a problem in the engine or when a service is needed. It frequently has two stages which are a steady glow or a flashing light. If your Land Rover's management light is on, bring the car into our garage as soon as possible. It may be a small problem but it is better to be 100 % certain.
It is wise to never ignore the warning lights in the instrument panel of your vehicle. In Cheadle, engine management light Land Rover is there on your dashboard for a valid reason. What it does is alerts you if there is a fault in the car's engine. The on-board computer will register the fault. When our specialists have a look at your Land Rover, they will use our highly specialised diagnostic machine to diagnose the fault.  If it is left or ignored, the issue could be become a huge problem that will require expensive repairs. Finding the problem means that it is likely to cost less to repair, and you will know that your Land Rover is safe from further harm.
Your engine management light Land Rover in Cheadle is an excellent early warning sign of a potentially large problem. Contact Premier Garage Services today and have your Land Rover seen to by our expert team.  We are approximately 50 % cheaper than the dealer and offer the same service with the same high-quality manufacturers' spares. We have over 25 years of experience in service and repair of all Land Rover products and can assure you that we can offer the same service as a dealership at a fraction of the cost using genuine parts. We do not compromise on quality during a service or repair and take great care in helping you to maintain your British manufactured vehicle in its original condition. We are able to service your vehicle from new without compromising the warranty.