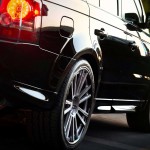 If you own a Land Rover, then you would likely benefit from a Land Rover garage in Warrington. We know you can go to your original dealer for service, maintenance and repairs. But why would you? Unless you like spending a lot of money unnecessarily and being treated like a number. Of course, you don't really want to do that but you do want qualified Land Rover mechanics who specialise taking care of your car. Allow us to introduce ourselves. Premier Garage Services is our independent Land Rover garage staffed with Land Rover trained and certified technicians. We are specialists in every area of Land Rover care. That includes every year and model. Our business has been established for over 25 years and we enjoy high ratings from our customers.
We are RAC accredited which means we have proven to be trustworthy. In Warrington, Land Rover garage service has one standard of service; that is the manufacturer's recommendations. After all, Land Rover built them so they get to set the maintenance and repair standards. We couldn't do that if we were lacking at all in the knowledge, experience, technological equipment and fully equipped facility. We're not and yet we can save you up to 50% off your dealer priced services. Because of our standards, you can bring your warranty work to us as well. When your Land Rover is four years old, and likely out of warranty, we offer options that your dealer can't. Ask about our budget-priced service plan.
We are a Land Rover garage in Warrington that is easy to do business with. If you just want a quote, contact Premier Garage Services. Tell us your vehicle mileage and registration number and we will give you a price quote over the phone. As local independent garage owners, we're not removed from the customer service end of business. We think that helps us provide more personalised customer service to our customers and improve communications. We are happy to collect your car for servicing and deliver it back to you. Nobody likes surprises when it's time to settle up. You can trust us to charge you the price that we quoted.