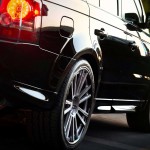 Premier Garage Services is your Range Rover specialist in Cheshire. As such, we guarantee that the technicians who service and repair your car are certified with over 25 years of experience. Our garage is fitted out with up to the minute diagnostic equipment for troubleshooting problems. It doesn't matter the age of your Range Rover, it matters how well you continue to take care of it. We can help you do that by offering our expert service at our full service garage. We like to follow the Range Rover manufacturer recommendations for all services and according to schedule. We figure they built the car so they should know the frequency of services and the extent.
Don't worry about the parts we use for repairs to your Range Rover. In Cheshire, our Range Rover specialist uses authentic Range Rover parts. If you want to save some money we can substitute aftermarket parts that are proven to be durable and reliable. It's just an option we're able to offer that dealers can't. The decision is completely yours. However, choose authentic Range Rover parts for your repairs and we'll still beat your dealer's costs by up to 50%. We can carry out your warranty work as well and keep your digital service book up to date. Authentic parts can help in maintaining your Range Rovers resale value.
Your Range Rover Specialist in Cheshire protects your warranty by providing top manufacturer recommended service. Our pricing is competitive. We also offer special budget priced servicing for Range Rovers over 4 years old. The cost varies according to make and model, but as an independent, we have that option to offer full service at a lower cost than others, especially your dealer. Contact Premier Garage Services for the highest level of expertise for your Range Rover. Our garage is RAC approved so you know you're in good hands. If you ever have a complaint about our services and repairs, an RAC approved garage member offers you recourse to manage your grievance. However, our customers are very content with our services and our prices.