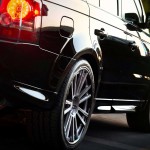 Land Rover repairs in Stockport may be necessary at times. It is also necessary to have your Land Rover regularly serviced. During the service, your Land Rover may need repair work or replacement parts. Entrusting your vehicle to an authorised Land Rover specialist will ensure that any repairs that are needed will be done to the recommendations of the vehicle manufacturer. An authorised Land Rover garage will also ensure that only genuine replacement parts are used in your vehicle. Our expert team can assist with any type of repair for your Land Rover.
We are Land Rover specialists with many years of experience, expertise and industry knowledge. In Stockport, Land Rover repairs could include exhausts, tyres, wheel alignment, clutches and more. When you bring your Land Rover to our garage, you can rest assured that our experts will determine the source of the problem, quickly and professionally. We use state of the art diagnostics tools to assist us in sourcing the cause of the problem. Additionally, we offer top quality servicing for your Land Rover. As an independent garage, we can service your Land Rover according to the manufacturers' recommended guidelines. We'll also stamp your service book and update your online Land Rover digital service record. On top of that, our prices are considered real value for money.
For your Land Rover repairs in Stockport, you are welcome to request a free quote. We know that you may be unable to bring your Land Rover to our garage yourself. This is why we offer a free collection and delivery service. If you need an expert garage for your Land Rover repairs, contact Premier Garage Services today. If your vehicle has a problem with its suspension, timing belt, gearbox or exhausts, we can assist. We'll discuss any repair work that must be completed with you before we begin. We will ensure you know exactly what the repair work entails, along with how much it will cost you. In this way, you can make an informed decision about your vehicle. We take great pride in the excellent quality of our work, our competitive prices and our customer service.