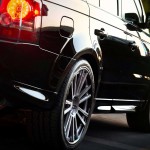 A Land Rover is a one kind of vehicle and will require specialised Land Rover repairs in Knutsford. If you are the proud owner of such a prestigious vehicle, you will want to make sure that it is treated with lots of care and attention. As such, you will want Land Rover specialists to have a look at your vehicle since Land Rovers will come with their own sets of problems.
In Knutsford, Land Rover repairs for all models and year are done at Premier Garage Services. They have a team of Land Rover specialists who provide a comprehensive range of services for this brand of vehicle. In fact, they have employees with 25 years of experience and their knowledge and expertise will definitely make pinpointing the root of the issue faster. To avoid any problems, it is a good idea to invest in regular servicing. One of the most common questions that the garage receives is whether they provide service plans to Land Rover owners. The garage does provide service plans and for those with a vehicle that is older than 4 years, they offer a budget service plan. However, please note that the garage charges will vary depending on make and model. The quotation that they provide you will also vary on the vehicle registration number and current mileage. Their repair or servicing services include picking up your vehicle and deliver it to you fully repaired.
If you are looking for a reliable garage for professional Land Rover repairs in Knutsford, do not hesitate to reach out to Premier Garage Services. They are a team of professional and meticulous mechanics who are dedicated to providing you with great values without invalidating the warranty of your vehicle. Please note that they can approve your service book with a Service Stamp or update digital service record online. To book an appointment for Land Rover repairs, contact Premier Garage Services.