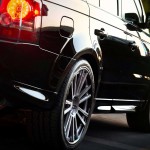 Timeous Land Rover servicing in Gatley is advisable if you want to make sure your Land Rover is able to travel over every kind of terrain.Premier Garage Services, with their 25 years of experience, are able to repair, service and maintain your Land Rover as well as other vehicles. This is because changes in legislation mean reputable garages can offer services to your Land Rover at much more affordable costs while not invalidating your vehicle warranty. Work covered by their experienced and highly trained technicians ensure that your vehicle's warranty remains valid. The sooner problems are discovered with your Land Rover, the easier they're fixed, so it pays to take your vehicle as soon as possible to an approved service centre as soon as possible.
In Gatley, Land Rover servicing is done by specialists who have decades of experience in the industry. The thorough and efficient technicians are able to work on every Land Rover model there is – from Range Rover Sport to Discovery to Defender. All their servicing is carried out in accordance with manufacturer's recommendations, which will ensure your vehicle travels on the highways and around off the beaten track in carefree abandon. Servicing charges will vary depending on certain factors but Premier Garage Services will provide a quotation based on the vehicle registration number and current mileage. Services and repairs are carried out honestly and quickly.
Land Rover servicing in Gatley includes a customer car package which offers the awesome convenience of collecting and returning your car before- and after servicing, fully repaired and ready to go. From brake repairs to wheel alignment to suspension and gear box problems to checking every component of your Land Rover, Premier has the best quality equipment to ensure your Land Rover remains the incredible vehicle it is. Contact Premier Garage Services for more about Land Rover Servicing.