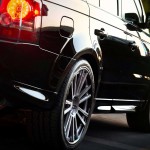 When you get a Range Rover cam belt replacement in Manchester, you will be replacing one of the most crucial parts of an engine. Every vehicle manufacturer will have a recommendation on when to change and replace the cam belt, however, if you do not adhere to the schedule and avoid changing it within the recommended time, the cam belt might snap and break. Since the cam belt is part of the essential parts of a vehicle, the engine will not run as the cam belt regulates the movement of the crankshaft and the camshaft.
Worried about the cost? In Manchester, a Range Rover cam belt replacement will not cost you quite as much if you know where to go. If you choose Premier Garage Services, you will find that you will be charged about 50% less than at the main dealers. The garage has been providing quality services to clients at affordable prices and remains one of the most reliable garages in the area. They also have trained Range Rover technicians that have been in the industry for 25 years and they are fully able to work on all Land Rover and Range Rover models. If it is time to change your cam belt, do not hesitate to get a quote from the garage, you will be elated at the price that they charge and the service they provide. Their clients are so satisfied with the prices and the services they receive that they always go back whenever they need servicing or repair work on their vehicles.
Before it breaks, get your Range Rover cam belt replacement in Manchester at Premier Garage Services. The garage provides a 12-month guarantee on all parts and labour, thus, giving the client peace of mind when they roll up to the garage. To find out more details about a Range Rover cam belt replacement, contact Premier Garage Services. They also provide regular servicing and full servicing, undertake general repairs, do wheel balancing and alignment.