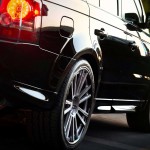 A Land Rover specialist in Bramhall is better qualified to service your Land Rover than the average mechanic or technician. Every make and model of car is different, and to give your car the best treatment, you will want to find a garage that specialises in cars like yours. Premium Garage Services has over 25 years of experience in working with Land Rovers, and have a specialised knowledge when it comes to Land Rover servicing, maintenance and repairs. We also offer a free collection and delivery service.
When your Land Rover is showing signs of trouble in Bramhall, Land Rover specialist garages like ours will be able to pinpoint and solve the problem quickly. There is no need to take your Land Rover in to the main dealership and pay exorbitant fees; we have the same level of expertise and state-of-the-art equipment to service your vehicle. Even better, our top-quality service comes at a fraction of the cost. You can rest assured your Land Rover will receive the best care and attention while in our garage as we are driven by our passion and love for Land Rovers. We can service and repair all Land Rover and Range Rover models.
Our technicians receive advanced training in order to become a Land Rover specialist in Bramhall. This means that we are capable of the highest standard of care when it comes to your Land Rover. Contact Premier Garage Services for a Land Rover specialist to service your vehicle. From the smallest wiring fault to complete engine repair, we can get you back on the road quickly and affordably. We also offer tyre and wheel balancing, wheel alignment, general servicing and repairs, and MOT checks and tests. Your Land Rover is your pride and joy, and we offer the customer care and quality service worthy of such a grand vehicle.