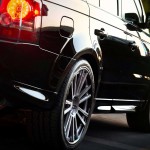 If you need Discovery 4 servicing in Marple, Premier Garage Services is the place to visit. A Discovery 4 is a large investment and it is prudent to use the services of a professional and specialist garage for any work required for your vehicle. Whether it is servicing, repairs, new tyres or balancing or wheel alignment, we are the Land Rover garage that can help you out.  Our mechanics are highly skilled and trained Land Rover technicians, with many years of experience with working with all makes and models of Land Rover.
When your vehicle develops trouble in Marple, Discovery 4 servicing will ensure that it is running smoothly. With 25 years of experience, we have the expertise and the skill to service your Discovery 4. If you are concerned about the time it takes to get your vehicle to our garage, we will gladly collect it from you, and return it when it is done. As independent Land Rover specialists, we offer an excellent value for money service on all makes of Land Rovers and Freelanders. To ensure your peace of mind, we provide a 12 months warranty on all parts and labour.
When you need Discovery 4 servicing in Marple, bring your vehicle to our Garage. If Discovery 4 needs work done on the clutch, brakes, gearbox, suspension or the exhaust system, contact Premier Garage Services. Our skilled team will provide a professional servicing for your Discovery 4. If you need new tyres, diagnostics or wheel alignment, you have come to the right place. We pride ourselves on our excellent customer service and high standards of workmanship. We also feel we offer more technical equipment than many other franchise dealerships. We also have access to the best quality parts and the most up to date service schedules. As a result of the European Block Exemption, car owners can take their cars for servicing at a garage of their choice without invalidating the warranty. Schedule an appointment for servicing of your discovery 4. We are also able to approve your service book with a Service stamp. Look after your Discovery 4 and bring it in for servicing at Premier Garage Services.