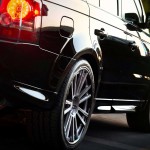 Use Premier Garage Services for your Discovery 3 service in Wilmslow. The discovery 3was launched in 2004 and the Discovery 4 series took over in 2009. Our highly qualified technicians have been servicing and maintaining Land Rover manufactured vehicles for many years. We have over 25 years of experience in servicing Land Rover vehicles including the Discovery 3. We are acknowledged as one of the most experienced Land Rover garages in the area. This vehicle can be used both on and off road and we can fit the tyres best suited to your usage of the car. We have all the necessary tools and equipment to service and repair your Discovery 3. Do not risk an inferior service to your expensive vehicle by someone who will use pirate parts.
If your Land Rover needs attention in Wilmslow, Discovery 3 service is best done by the experts. We have the diagnostic machine which can access the Land Rover technical library in case of really obscure faults. The machine will reset any warning or service lights. It will also enable the technicians to finely tune the fuel usage and various other systems that need to be reset after a service. The on board computer can communicate any small faults to the diagnostic machine making it easy for us to catch faults before they become expensive problems. We make sure that your car keeps a high resale value.
The Discovery 3 service in Wilmslow is an important part of keeping your vehicle in good condition. Contact Premier Garage Services today and book your vehicle in for its next service. You will be amazed at the difference in service quality and price. We are approximately 50 % cheaper than the dealer and offer the same service with the same high quality manufacturers spares. Your vehicle has passed the initial manufacturer's warranty but we can keep it in pristine condition. This is one of the most popular Land Rover vehicles and our technicians are well versed in problems and faults that may crop up.