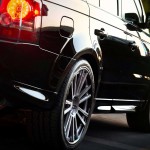 A Freelander service in Sandbach is an essential part of maintaining your vehicle. We are pleased to offer a cost effective and comprehensive servicing package for your vehicle. As part of the EU regulations, you can choose where you would like to have your car serviced, and without invalidating the car's warranty. Bring your Freelander to our garage for a professional and efficient service. We also offer a free collection and delivery service if you are unable to bring your vehicle in yourself.
We pride ourselves on our excellent customer service. In Sandbach, Freelander service means that you will receive good value for money for good service. We feel we offer more technical equipment than a number of other franchise dealerships. We also have access to the best quality parts and the most up to date service schedules. Your service book will be approved with our service stamp, once your Freelander's service is done. Our vehicle servicing is done according to the manufacturer's guidelines and recommendations. This will also ensure that your vehicle's warranty remains valid. If your Freelander is over four years old, we can offer a budget-priced vehicle servicing plan.
A Freelander service in Sandbach is completed by our professional and efficient technicians. As we provide a 12 month warranty on all parts and labour, you can rest assured that your vehicle is in good hands. For more information about our Freelander service options, contact Premier Garage Service. Our skilled technician have many years of experience and industry knowledge. If there are any potential problems lurking in your Freelander, our technicians will find them and see to it that they don't become larger problems in the future. As an independent service and repair centre, you can rely on us for an excellent service for your Freelander. We are Land Rover specialists and can undertake any work, including maintenance, servicing and repairs, for any make and model of Land Rover, including Freelander. Catch any problems before they start and ensure your Freelander remains in superb condition with Premier Garage Services.