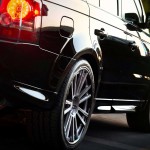 Range Rover servicing in Stockport will have your car up and running in no time. The Range Rover is a full sized luxury SUV from Land Rover. It was originally launched in 1970 and it is currently in its fourth generation. The Range Rover has its roots in the experiments of Gordon Bashford in 1951, when Land Rover was looking for a model larger than its Land Rover series. The experiments were shelved  in 1958, and they were dormant until 1966, when the company began working on the first Range Rover prototype. The design was finished in 1969 and the first Range Rover was tested in 1970.
For those in Stockport, Range Rover servicing is accessible and competitively priced. The first model of the Range Rover was exhibited in the Musee du Louvre in Paris as an "exemplary work of industrial design". This first generation of the Range Rover was produced for quite a long time, between the years 1970 and 1996, and it was only since 1981 that you had a 4-door model. This generation of the Rover was not designed as a luxury-type vehicle, instead opting for a more basic and utilitarian interior. The second generation was released after 25 years, and it lasted from 1994 to 2002.
Range Rover servicing in Stockport covers all models of the car. The second generation came with a Rover V8 engine, or a 2.5-litre BMW six-cylinder turbo-diesel. The third generation was released in 2002 and lasted until 2012. This model was developed under BMW ownership, and it moved up-market. It shared components with the BMW 7 Series, and came with an automatic transmission. Range Rover is currently in its fourth generation, and you also have a diesel-powered hybrid electric model which was unveiled in 2013. If you have problems with your Range Rover, contact Premier Garage Services today. We are a Land Rover specialist that can help you identify and fix any problems your vehicle might have.