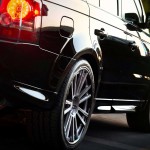 For professional and competitively priced Range Rover servicing in Stockport, Premier Garage Services is your go-to garage. For an excellent service and at rates that are up to 50% cheaper than those of the main dealer, you can't go wrong by bringing your Range Rover for servicing at our garage. All the vehicle servicing we provide is done in accordance with the manufacturer's recommendations, d this ensures that your vehicle warranty remains valid.
We provide top quality servicing for all models of Range Rover. In Stockport, Range Rover servicing is professionally completed by our team, all of whom are Range Rover trained, and with over 25 years of experience in the industry. If you have an older Range Rover, we also offer a budget-priced vehicle servicing plan for vehicles older than 4 years. You can rely on our experts to provide a first class servicing, no matter the age of your Range Rover. As an independent service and repair centre, we can offer great value servicing without invalidating your vehicle warranty. This is due to the changes in the European Union (Block Exemption) legislation. We also believe we offer more technical equipment than several franchise dealerships, as well as having access to the best quality parts and the most up to date service schedules. We can also approve your service book with a Service stamp.
Range Rover servicing in Stockport is both affordable and convenient. We offer a collection and delivery service if you are unable to bring in your Range Rover yourself. This is one of the ways we can show our appreciation for our customers. If you need a professional garage for Range Rover servicing, contact Premier Garage Services. All parts and labour include a 12 month warranty, giving you peace of mind and the assurance of a job well done. Our other services include repairs, maintenance, tyres and wheel balancing and alignment. As Land Rover specialists, we are equipped to work on all Land Rover and Range Rover models, including Evoque, Defender, Freelander, and the Discovery as well as the complete Land Rover series.