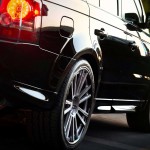 For quality Range Rover repairs in Cheshire, come down to Premier Garage Services. Range Rover has one of the most sophisticated mechanical and electrical systems in automotive engineering. The brand is known for manufacturing top performing vehicles with cutting edge technology. Since its launch in 1970, the Range Rover has been one of the most revered luxury Sports Utility Vehicles. However, with sophisticated engineering comes daunting approaches to repair. Owing to the highly coordinated systems used in the Range Rover, expertise and accuracy are of importance. A simple error in repairing can cause more problems than the ones you are experiencing. We specialize in Range Rover repairs. Our team of mechanics has unparalleled expertise when it comes to repairs and installation of aftermarket replacement parts.
Service stations offer all sorts of repairs for numerous car models. However, in Cheshire, Range Rover repairs should only be left to the experts. At Premier Garage Services we understand the mechanics under the bonnet. We have years of experience in repairing Range Rover vehicles and all the necessary tools to fix your car. We have more technical equipment than many franchise dealerships and source top quality parts for Range Rover vehicles. We also do wheel balancing and alignment and our technicians carry out general repairs and car servicing.
You can trust Premier Garage Services for Range Rover repairs in Cheshire. We are specialists in all Land Rover models including the Range Rover vehicles. Our services are unmatched and our prices are competitive. Car repairs are best done comprehensively to avoid recurrence or costly damage. When your service is due, we conduct a thorough sweep of your car to confirm everything is in tip-top shape. In case of any need for repairs, our in-house technical team is ready to restore your vehicle to its fully-functional state. We run fully equipped service centres with the latest in automobile repair technology. If you are looking for a place to get the same level of service as a dealership, contact Premier Garage Services. Pass by our garage today and enjoy quality services. We're pleased to offer some of the best deals in town.