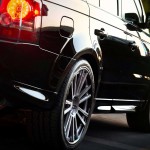 We recommend annual Range Rover servicing in Cheadle to maintain your vehicle's performance. This involves a thorough investigation of all the Range Rover's working parts. Our mechanics will inspect the inside and outside parts of your vehicle to ensure they are operating smoothly. We will also closely examine those parts that appear to be wearing out so that we can warn you about possible upcoming issues. Another feature of our Range Rover servicing is an oil and filter change. The duration of the servicing will also vary according to the type of service you need, whether it is an interim or annual service. The former is performed every six months and is shorter in duration, lasting approximately an hour and a half. Annual servicing happens once a year and is more detailed. You can expect your vehicle to be in our garage for up to three hours! However, before we begin servicing your SUV, we'll have a discussion about what will happen. At this time, we'll also discuss the cost so that you're comfortable moving forward. At the end of the servicing, our mechanic will present you with an itemised list of what services were performed on your SUV.
If you live in Cheadle, Range Rover servicing is offered by Premier Garage Services. We have nearly three decades of valuable experience in servicing, maintaining and repairing Range Rovers and Land Rovers. These luxurious SUV models require special care so that they perform at their optimal level. Wouldn't your rather have a specialist service your vehicle? We perform all servicing according to the manufacturer's guidelines. This helps maintain the validity of you Range Rover's warranty. Our servicing charges will depend on your current mileage, vehicle registration number and model of SUV. But don't worry, before commencing any kind of work, we'll offer you a free, no obligation quote.
Don't delay your Range Rover servicing in Cheadle. For more information about how we can assist you with Range Rover servicing, contact Premier Garage Services. We also perform tyre and wheel balancing, wheel alignment and general repairs. You can count on us for all your Range Rover requirements.