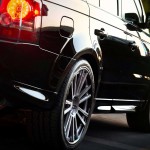 Range Rover servicing in Stockport, when conducted according to schedule, is not just a suggestion. Range Rovers are built tough to last long; as long as you follow the manufacturers' recommendations. Premier Garage Services is your Range Rover specialists. We can help you stay on your service schedule; follow the Range Rovers service and maintenance plan and keep your vehicle ready for the fun it was built to endure. Another benefit of staying on schedule is the likelihood that any issues will be detected by our team before they turn into major issues requiring major repairs. At Premier Garage Services, we use authentic Range Rover or Range Rover recommended parts and products.
Ideally, you will bring your Range Rover to us about every 15,000 miles which is only about once a year for most drivers. For drivers in Stockport, Range Rover servicing at the 15,000 mile point would include a thorough inspection of all systems such as power steering, diagnostics, exhaust and cooling systems. At that time we would also check your wiper blades, tyres, brakes, belts, hood and door latches and check the underbody for anything loose. We also check and replaces all fluids. At 30,000 miles we repeat that 15,000 check list and add a few more items like brake line, driveshaft, fuel line, suspension, your complete wiring harness, steering and safety restraints. At 60,000 miles, we repeat everything on the 15,000 and 30,000 mile inspection and continue to do so every 15,000 miles.
Range Rover servicing in Stockport at Premier Garage Services is not a big burden on your time or your budget. At the 60,000 mile mark you will likely have replaced only fluid, tyres, filters and brake pads. There is a great confidence knowing that a Range Rover trained specialist has physically checked every operating component in your vehicle. You can head out for a cross-country drive, hill climb or just go shopping knowing your Range Rover is ready to do whatever you ask of it. Contact Premier Garage Services for dealer quality service at independent garage prices. Take care of your Range Rover. Our once a year service and inspection is comprehensive beginning from new and extending throughout the long life of your vehicle.