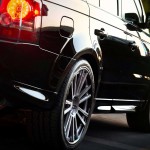 Range Rover servicing in Altrincham is much simpler now than it used to be, and that in part is due to Premier Garage Services. You'll be hard-pressed to find another car repair service that offers to collect your vehicle and drop it off at your residence free of charge. However, we're more than happy to provide such value, because to us, our customers mean more than anything else. We've been gaining traction in the region for over 25 years, and our large customer base has grown as a result of our professional approach and agreeable prices.
Changes in European Union legislation have meant that we can service your vehicle without nullifying your warranty since we're working in accordance with your vehicle manufacturer's guidelines. In Altrincham, Range Rover Servicing for your vehicle is just a phone call away. We offer a year's warranty on all the parts we provide, so you needn't worry about anything except for driving the best Range Rover that you possibly can. Our services include everything that your Range Rover needs, including services, repairs, wheel alignment, and tyre balancing. Our level of expertise and quality and variety of equipment exceeds even that of franchise dealerships.
Range Rover servicing in Altrincham is done by our team of professionals. One of the most alluring aspects of our services is that we offer prices far lower than regular dealerships. In fact, we can provide better services for almost 50% of what you'd be charged otherwise. To top it all off, we have a customer support system that stays by your side until you're fully satisfied with your Range Rover. If you are looking for a garage that provides quality and affordable Range Rover servicing, contact Premier Garage Services today.  We pride ourselves on being able to provide more value for your money than any other specialists around, and for that, we have our customer base to thank. You can become a part of it too – all you need to do is give us a call, and we'll handle the rest.