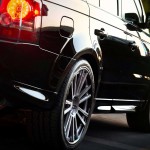 If there is a malfunction in your DPF Range Rover in Cheadle Hulme, it's likely a warning light will show up on your dash. When it does, don't ignore it. You may already be noticing a loss of engine power and a rough running engine. You may not have noticed that your fuel mileage has decreased. What's happening here is your diesel particulate filter (DPF) is not regenerating or cleaning itself as it's designed to do. That's a big deal because if that filter gets damaged due to the malfunction it is a costly part to replace. Anytime your check engine light comes on, you should take the time to stop in and let one of our techs connect your engine to our state of the art Range Rover diagnostic equipment.  That's the best way to avoid expensive repairs because we will likely catch the problem early.
Your diesel particulate filter is the part of your exhaust system that captures toxic emission particles. About every three months or so in Cheadle Hulme, DPF Range Rover is engineered to heat up and burn the soot from your filter. What's left is a harmless vapour which is expelled through your exhaust pipe. Environmental protection agencies have approved this engineering to prevent polluting the atmosphere with toxic fumes from your diesel engine. It's a very effective system. On most Range Rovers, you'll see a dash light indicating when regeneration is taking place. It will happen while you are driving at the maximum allowed speed, last about 15 minutes and not interfere with your driving at all.
A failure to regenerate your DPF Range Rover in Cheadle Hulme has been known to occur. If it does, we can usually manually regenerate the filter to clean it. If that doesn't work, we may need to remove it for cleaning and then reinstall it. In either case, the result is a clean filter that will likely regenerate itself automatically thereafter. Contact Premier Garage Services for DPF issues and all Land Rover service and repairs. We are an independent garage with Land Rover trained and experienced technicians. Our 25 years' experience promises you the best customer service experience. All work is guaranteed to manufacturer standards and recommendations. As an independent garage, we can likely save you money over dealer costs.