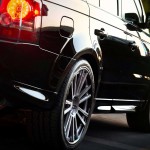 Land Rover repairs in Poynton may be necessary to keep your vehicle in excellent condition. It is also important to choose a garage that specialises in the Land Rover vehicle. A specialist garage has the technicians and mechanics that are trained and have the experience in working with this type of vehicle. We can assist. As an independent Land Rover specialist, we are the garage to choose for your vehicle's repairs.  We have many years of experience and industry knowledge. This makes us the garage to rely on for all your Land Rover's repair, maintenance and servicing requirements.
Your vehicle is in safe hands at our garage. In Poynton, Land Rover repairs begin with a phone call to schedule your appointment. If you are unable to bring your vehicle to our garage, we can collect it from you, free of charge. Our experts can assist with any type of repair, large or small, your Land Rover needs. If the clutch or the gearbox is not performing as it should, we can help. Additionally, we can provide repairs for a range of issues such as the timing of your vehicle, along with heel alignment, suspension, brakes and more. E can also assist if your Land Rover needs replacement tyres, repair work on the exhaust, battery, gearbox and clutch. It is best to repair a problem as soon as possible. This will prevent further damage to your vehicle and higher repairs costs later.
Land Rover repairs in Poynton are cost-effective too. Our prices are competitive and you'll find that our repair service is excellent value for money. Our experts can repair any Land Rover model. We only work with the highest quality equipment and machinery to ensure your Land Rover runs as efficiently as possible. Moreover, we offer a range of other services that are perfect for your Land Rover. These include comprehensive servicing, completed to the manufacturer's guidelines. For more details on how we can assist with your Land Rover repairs, contact Premier Garage Services today. Furthermore, we provide 12 months warranty on all parts and labour, bringing further peace of mind.