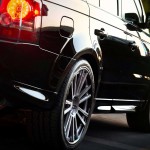 You may be looking for a Land Rover specialist in Stockport for your older model Land Rover. You will be pleased to discover that Premier Garage Services have over 25 years of experience in service, repair and maintenance of all Land Rover and Range Rover makes and models. Our highly trained technicians will provide you with expert service at half the price of a dealership. We are able to stamp your service book to keep your manufacturer's warranty valid.  Our services are thorough and we only use the best quality parts available.  We will also advise you when the next recommended service is due so that you can plan ahead.  We will collect your vehicle from your work or home, and after the service or repair we will deliver it back to you at no extra charge.
In Stockport, a Land Rover specialist will quickly diagnose any problem your vehicle may have. After conferring with you, he will replace the faulty or worn item with a new top quality part.  Our spares department have the most comprehensive stock of spares. We can confidently replace any number of parts that are prone to wear and tear, like the clutch or brake parts and we can also, if necessary, rebuild or refurbish your vehicle's gearbox.  With Land Rover being an off road vehicle as well as a family car, your tyres need to be checked and replaced as they wear down.  We have a large range of tyre suited to both 4 x 4 needs and normal road use. We will fit new tyres, and, as a matter of course, will do wheel balancing and alignment which will help your tyres last much longer.
Premier Garage Services' Land Rover specialists in Stockport will ensure that your Land Rover or Range Rover remains in the best possible working condition by making sure that the suspension and exhaust as well as the battery are all in good condition.  Should we feel that they need replacing we will always contact you first and inform you of the price before repairing.  We pride ourselves on our honest and professional service to all our customers. For more information about a Land Rover specialist, contact Premier Garage Services.