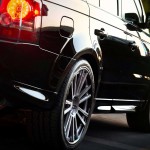 Get expert Land Rover servicing in Macclesfield with Premier Garage Services. With over 25 years of experience, this independent service and repair centre will treat your Land Rover with the care and attention it deserves. Vehicles over four years old even apply for a budget-priced service plan. Their dedicated and knowledgeable technicians pride themselves on their sterling customer service and standards of quality, and ensure that their customers experience the minimum amount of disruption or inconvenience during their Land Rover servicing.
In Macclesfield, Land Rover servicing can now be carried out by independent garages without invalidating your Land Rover's warranty. Using an independent servicer such as Premier Garage Services is often more cost-effective than going to the Land Rover dealerships, and with the same level of service, technical equipment and expertise. Premier Garage Services carries out all their servicing in accordance with Land Rover manufacturer recommendations to ensure that your vehicle's optimal performance is reached. With a twelve-month warranty on all labour and parts, you are guaranteed satisfaction and peace of mind that your Land Rover is in the best of hands.
With Premier Garage Services, your Land Rover servicing in Macclesfield will give you complete satisfaction that your vehicle is in optimal condition. They are able to approve your service book with a Service Stamp or update your online Land Rover Digital Service Record when appropriate. They have access to high quality parts and the most up-to-date service schedules. With their friendly and professional servicing there is no reason not to visit them. Ensure your Land Rover is in the care of the professional, passionate technicians at Premier Garage Services. Visit their base of operations in Stockport today for a quotation, or simply fill out their online contact form. For more details about Land Rover servicing, contact Premier Garage Services.