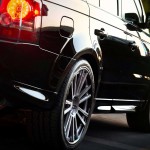 Are you looking for a top-quality Land Rover garage in Timperley? Land Rover enthusiasts know that their vehicles are famous world-wide for their excellent off-roading capabilities as well as great performance on city streets. This more than half-a-century old brand requires special care by knowledgeable, experienced and qualified technicians to keep it in optimum running condition. Though the vehicle itself is sturdy and tough, keeping it well-maintained adds to its performance and enhances its resale value. Vehicles today are highly sophisticated and engineered to international standards. Many drivability problems arise from poor maintenance, poor knowledge of using the features of the vehicle and also by the natural wear and tear of usage.  Land Rovers may have problems like stalling, noisy gearbox, blue smoking, gearbox change issues and all these require attention from a specialist who has been specifically trained to recognise and repair such problems.
In Timperley, a Land Rover garage like Premier Garage Services is able to offer a range of Land Rover servicing facilities without invalidating the original vehicle warranties, because of the recent amendments in the EU block exemption regulations. Such garages provide the most modern, state-of-the-art equipment for diagnostics and repair, genuine spares and convenient scheduling of services to suit customer needs. Additionally, they also offer long-term guarantees on spares and labour, ensuring that the customer is satisfied and comfortable.
One of the most important things to consider while selecting the right Land Rover garage in Timperley is whether their technicians are trained at the original Land Rover facility. This ensures that only a fully-trained, licensed and knowledgeable expert deals with your expensive vehicle. Most of the technicians in top-quality Land Rover garages have experience in dealing with the full range of Land Rover vehicles and models. Their servicing is in sync with manufacturer guidelines, and they offer different plans for older vehicles. Tyre balancing, wheel alignment, full repairs and servicing are all the other services offered. You may also require services like MOT, a service reminder alert, news and updates on maintaining your vehicle. Do a pricing and services comparison study across a few garages before selecting the appropriate one. For a top-quality Land Rover garage, contact Premier Garage Services.