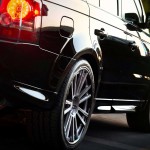 For an excellent choice for a Land Rover garage in Cheadle, choose Premier Garage Services. One reason for that is their technicians are Land Rover Trained so they know how to service and repair your car with skill. Another reason is Premier Garage Services is an independent garage. That means they can perform warranty work for up to 50% less than your dealer will. Premier Garage Services offers more technical equipment than some franchise dealerships. Their replacement parts are the best quality and they can put the stamp of approval on your service book as well. Combine their 25 years of service with their warranty and it adds you to your peace of mind.
In Cheadle, Land Rover garage, Premier Garage Services offers another important benefit. Their customer service is great. You do not have to bother someone to follow you when you drop your car for service and pick it up. As a courtesy to their customers, Premier Garage Services will pick your car up from your work or home and deliver to back to your location when repairs or services are complete. Taking care of your car will not cause you great disruption if you choose the Premier. Their customer service is second- to- none. They even offer a special rate for some services if your car is over four years old.
You want your Land Rover garage in Cheadle to be a full service garage and Premier Garage Services meets that requirement. Service is performed according to manufactures specifications so your warranty stays valid. Their technicians keep you in the loop as they diagnose, repair or service your car. Before any work is done to your car, you will know what it is, why it matters and what it costs. Repairs include brakes, clutches, gearboxes, suspensions and batteries among others. Premier Garage Services also stock tyres from the best-known manufacturers. They expertly fit and balance them as well. Accurate wheel alignment is critical to how evenly the tyres wear and how well the car steers. It is important to your cars fuel efficiency as well. Premier Garage Services uses the leading and most advanced computerised equipment for accurate wheel alignment. When you need a Land Rover garage, contact Premier Garage Services.