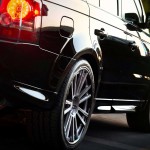 Land Rover servicing in Timperley has become a location for some of the best servicing in the country- and thank goodness for that! Imagine taking your beloved Land Rover to an uncredited shop for repairs and it comes back to you in worse condition that before? If you own a Land Rover, there is no way you would take a chance to use inauthentic parts or an uncertified mechanic. Why not use Premier Garage Services? They provide a first class service at excellent prices for all makes of Land Rover.
In Timperley, Land Rover servicing is professionally done, thanks to Premier Garage Services. They pride themselves on excellent customer service and can guarantee the highest standards in car servicing. Premier Garage Services has access to the best quality parts in several regions of the UK and have been nominated with the most up to date schedules in a test conducted at the beginning of this year. Their professionalism cannot be mistaken and to prove their undeniable expertise, they provide a 12 month warranty on all parts and labour. This will give you great piece of mind when embarking with your family on a long trip for your summer holidays.
Land Rover servicing in Timperley is made easy with Premier Garage Services. Their technicians have over 25 years of experience in the industry, and guarantee a professional and top quality service. Best of all is their competitive prices which gives you a free consultation and quote so that you may make the best decision for you and your Land Rover. Whether it's an Evoque, Defender, Freelander or Discovery, Premier Garage Services will work on any model and on any aspect of Land Rover Servicing. Is your car due for its service? Is there general maintenance work to be done or is your car in need of some urgent repairs? Premier will get the job done- quickly and economically. Don't forget the added bonus of their free collection and delivery service. For more information about Land Rover servicing, contact Premier Garage Services.