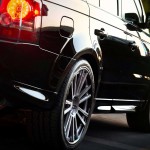 Land Rover servicing in Hyde is expertly provided by Premier Garage Services. With more than 25 years in the industry, this independent garage has the know-how and experience to look after your Land Rover. This includes all makes and models of Land Rovers. In fact, Premier Garage Services is able to service and repair any make or model of vehicle. Because of changes in legislation, you can take your car to any garage of your choice. You do not need to go to a main dealership. Your manufacturer's guarantees will not be affected, and you could pay less for repairs and servicing. In fact, when you use Premier Garage Services, you could be saving as much as 50%.
In Hyde, Land Rover servicing undertaken by Premier Garage Services is done to the highest of standards. They have the necessary technical equipment to service or repair your vehicle. Premier Garage Services only uses quality parts. They have the latest manufacturer's schedules and will take care of your car. They provide a twelve month warranty on all parts and labour, and this will give you peace of mind. Premier Garage Services offers a comprehensive range of services. These include tyre and wheel balancing, alignment, servicing and repairs. They have all the diagnostic equipment to correctly identify what your car requires, and they have the experience and expertise to execute all repairs.
Premier Garage Services is preferred for Land Rover servicing in Hyde because of their expertise, excellence and customer service. This business truly goes the extra mile for the customer. For example, they offer a free collection and delivery service for your vehicle. This is very convenient as it means that you do not have to battle to organise lifts on the day your car is due for a service or its annual MOT test. It is this type of attention to detail that set Premier Garage Services apart from others. The next time your car needs to be repaired or serviced, remember Premier Garage Services. Whether you need something simple or major work on your vehicle, they will be able to assist at a competitive price. Contact Premier Garage Services today for more about Land Rover servicing.