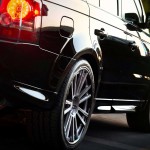 A Land Rover specialist in Macclesfield is the place to go to make sure your vehicle gets the very best treatment from an expert team. With Premier Garage Services' highly qualified technicians and the very latest in diagnostic machinery and tools, your car is in the safest hands. New cars can have their services for a lot less than the dealership price while still getting the attention to detail. The service book which keeps your warranty current can be signed by this Land Rover specialist. The spares department carry spare parts for almost all models. The parts used in servicing are readily available.
In Macclesfield, Land Rover specialist can help you with repairs to your vehicle. Land Rovers are commonly used off road and this can lead to some occasional damage. Stones can get flung up against the windows or body work and rocks can seriously damage parts in the undercarriage. Land Rover specialists keep the most commonly damaged parts in stock. Even if your vehicle is only used on the road there are parts that can be damaged in normal day to day driving. With their many years of experience behind them, they will make sure your car is kept in peak condition.
A Land Rover specialist in Macclesfield is especially good at identifying any problems you may have with your vehicle. Parts wear and electronics can go wrong. The diagnostic machines can accurately pinpoint faulty or worn parts. These can be very quickly replaced and your car will be back on the road in no time. There are also the parts that wear like the brakes. These are easily checked and when necessary replaced. The tyres will need occasional changing. The type of tyres fitted will be determined by the road surface that the vehicle is commonly used on. If you only use your Land Rover on good roads you will need different tyres to the Land Rover that is used on a farm and travels on rough tracks. The experts will help you choose the perfect tyres. Contact Premier Garage Services if you are looking for a Land Rover specialist.