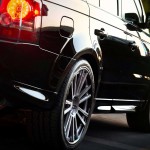 Do you urgently need Land Rover repairs in Ashton under Lyne?
It can be daunting to trust someone with your pride and joy. At Premier Garage Services though, your vehicle will be surrounded by the best.  The best equipment and the best technicians. We also provide a free collection and delivery service. Therefore, you can rest easy, as we will solve the problems for you.
For Land Rover owners in Ashton under Lyne, Land Rover repairs are our forte. Though we are able to service and repair any car, we are specialists when it comes to Land Rovers. Change in legislation means that we can now also offer you excellent service and repair work, without nullifying your manufacturer guarantees. This gives you the chance to pay reasonable prices at our centre. Our group of technicians are trained and experienced to ensure excellent service. Our range of services and repair options include most all parts of vehicles that may need repairing, including wheels and tyres. In this regard, we are assisted by technology in the form of the Hofmann Ecoline 88 which serves as computerised aligner. See that your vehicle can receive complete repair and care in our capable hands.
So if you are in need of Land Rover repairs in Ashton under Lyne, don't look anywhere else but Premier Garage Services. We offer all that you need in one place and pair that with reasonable rates. Contact Premier Garage Services today if you require Land Rover repairs. Work and services done will be updated on the Land Rover Service Record system. In these ways, our team make sure that all necessary aspects are taken care of. We make the process even easier by offering a free collection and delivery service. You can't go wrong with choosing us. It is safe for your vehicle and convenient for you.