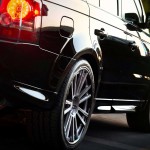 Our Land Rover specialist in Wilmslow is dedicated to providing you with exceptional customer care. When you drive in for a regular servicing or any other services, you can always count on our dedicated specialist to provide you with the maximum care possible.  At Premier Garage Services, we offer a free collection and delivery service to make your life easier. Those who love to drive Land Rovers do so because of the off-road capabilities and the sheer driving pleasure they offer. With care and regular maintenance, you will find that you can maintain its performing capabilities and increase its lifetime.
It doesn't matter whether you own an old or a new vehicle. In Wilmslow, Land Rover specialist can be trusted to help you take care of your vehicle. When you have a professional looking after your vehicle, you can be confident knowing that it's being maintained in the proper manner. If there is anything that needs to be done, then our specialist will inform you about the issues that have to be addressed.  At Premier Garage Services, our main aim is ensuring that you are driving a vehicle that is running at its maximum potential. Our technicians have over 25 years of experience with the various models such as Discovery, Legend and other series. This makes our technicians competent at finding common issues that may affect only certain models or rare issues that might require a deeper inspection under the hood.
Our Land Rover specialist in Wilmslow can help you regarding all aspects of maintaining your vehicle. To use the services of a Land Rover specialist, contact Premier Garage Services. Our equipment allows us to carry out repair work, servicing, fitting new tyres and do wheel balancing.