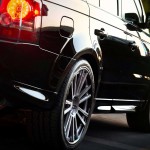 If your vehicle is due for a Land Rover service in Glossop soon, find a garage that specialises in Land Rovers. Premier Garage Services is proud to offer quality Land Rover servicing at affordable prices and also offer free collection and delivery of your vehicle. Getting your vehicle serviced from a dealership can be a costly affair. This is why many people opt for a regular garage after their membership with the dealership has expired.
If you reside in Glossop, Land Rover service can be obtained at Premier Garage Services. Our service rates are 50% cheaper than what the main dealer offers, but our quality of services is on par, if not better! We pride ourselves on being an independent repair and service centre. Based in Stockport, our reputation speaks volumes for the kind of work we do. After the recent implementation of changes in the European Union legislation, Land Rover owners are now free to obtain servicing from any certified garage. This will not invalidate their existing warranty. As a premium service garage, we use only the latest tools and parts to provide your vehicle with the best servicing. We can also provide you with a service stamp. In addition, we offer a 12 months warranty on all labour and parts. This is yet another reason why you will benefit by bringing your vehicle in to us.
Keep your Land Rover running smoothly by bringing it in for a regular Land Rover service in Glossop. A vehicle that is regular serviced will remain in excellent condition. It will also identify possible future problems that could end up costing more than you budgeted for. Contact Premier Garage Services today and book your appointment for a Land Rover Service. You'll be glad you did.