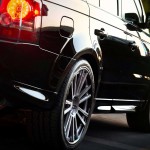 As the proud owner of one of the most famous auto brands in the world, you'd probably also want to know more about Land Rover service in Macclesfield and whether they offer free collection and delivery service for your convenience. Though Land Rovers are justly known for their rugged build and tough good looks, they're also a brand that can sometimes have issues like other vehicles! Stalling, noisy gear-box, and blue-smoking are some common problems and they usually arise from poor maintenance and poor training in using the sophisticated features of the vehicle. At Premier Garage Services, our professionally trained, experienced, skilled technicians are ever ready to not just carry out repairs and servicing but they offer great tips on maintenance and driving that go a long way in ensuring a safe and smooth ride.
It's important to know whether the technicians handling your precious set of wheels have been trained by the manufacturer. In Macclesfield, Land Rover service offered by us come with the assurance that anyone who handles your car is a fully-trained, knowledgeable, Land Rover specialist who have worked on the full range of Land Rover models. Our work is fully synced with manufacturer guidelines and regulations, with a variety of options for older vehicles and models. When you entrust your vehicle to us, you get a range of services that include MOT, service-reminder alerts, company news and updates, handy tips and advice too. Apart from these services, we also provide the regular ones like tyre alignment, wheel-balancing, general servicing and repairs to keep your vehicle in mint condition.
For more information about Land Rover service in Macclesfield, contact Premier Garage Services. We are a family-owned, local business, and provide a customer-friendly, personalised services and competitive rates. This is good to know, especially if you own a slightly older vehicle that will be taken care of by our experienced technicians who have handled similar vehicles during the course of their careers. Speak to us for more information on our top-quality services that will keep your Land Rover in top gear.