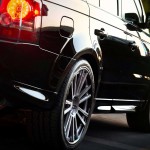 Car owners seeking Land Rover Defender repairs in Hyde are special just because they drive Land Rovers. The car you drive says a lot about you. A grandmother was overheard explaining that truth to her preteen grandson while they waited for her small economy car to be serviced. The grandson quickly concluded that his grandmothers' car declared her frugality to the world. Being an honest woman she confirmed that "cheap" accurately defined her. Land Rover owners have a certain charisma about them. We define them with words like individual, adventurous, prepared, dependable, distinctive and dynamic. When we imagine the apocalypse, we envision families fleeing over rubble strewn terrain in their indestructible Land Rover Defenders. Well, sooner or later it is going to need repair. Being no-nonsense types, you will want to choose Premier Garage Services.
For proud Land Rover owners in Hyde, Land Rover Defender repairs can be trusted to Premier Garage Services. They are an independent garage specialising in service and repair of Land Rovers. If you are a purest, you may prefer to take your still under warranty car to the dealer for servicing and repairs. That's your choice but be prepared to spend up to 50% more in pure cash for the same service, parts and repairs. That just does not sound like something you would agree to do. The technicians at Premier Garage Services are certified for Land Rovers. All work is performed to manufacturer standards using authentic manufacturer parts. They can stamp your service book same as the dealer. Twenty-five years of experience offers the customer great confidence.
Land Rover Defender repairs in Hyde, as all vehicles today, have many computerised parts. Therefore, Premier Garage Services invests in the best technicians and diagnostic equipment available. Top quality tyres are also stocked at Premier Garage and Service. Your tyres are fitted and carefully balanced. For alignments they use a computerised aligner with features that assure the most accurate wheel alignment possible. It is a quick process as well. Contact Premier Garage Services if you need more information about Land Rover Defender repairs. There are even more perks for customers of Premier Garage Services. For instance, in addition to their already low prices, they offer a budget service plan for cars over four years old. Who else does that?