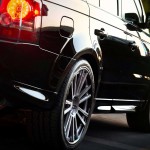 A Freelander service in Wilmslow can be done at Premier Garage Services. We are a professional Land Rover garage offering a full range of services for all types of Land rover makes and models, including Freelanders. Our Land Rover trained specialists have the skills and expertise to work on your Freelander. We have the technical equipment, the knowledge, and the experience to address any issues you may have with your vehicle. We are also pleased to say that when you use our services, you will pay up to 50 % less than at any main dealer.
Not only will your vehicle be in an excellent condition, you will pay less for the service. In Wilmslow, Freelander service and maintenance is expertly done by our able team. Although we are the leading experts in the repair and servicing of Land Rovers, we can work on any make or model of car.  This means that you can get the benefit of our expertise as well as our competitive pricing whatever vehicle you drive. Change in legislation means that we can now also offer you excellent service and repair work, without nullifying your manufacturer guarantees.  We have been in the trade for more than 25 years and have gained the experience, expertise and knowledge to repair, maintain and service your vehicle. Being Land Rover specialists, we also offer a wider range of modern technology and diagnostics.
A Freelander service in Wilmslow will include the stamping of your service book to keep the warranty up to date or we can update your online Land Rover Digital Service Record. If you would like more information about our Freelander service options, contact Premier Garage Services. We offer a comprehensive range of services for Land Rover Freelander models. We also have state of the art diagnostic machines which enable our technicians to quickly and efficiently identify any faults in any of the many systems which control the efficient running of your car. Keep your Freelander in shape with servicing from Premier Garage Services.