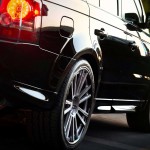 Discovery Sport servicing in Aldereley Edge is a great way to keep your car in great shape. Chances are that when you first bought your Discovery, it was top of the range, pun intended. It was sleek, stylish, and equally suited for paved city streets and rough, off-road adventures. And we're sure you'd like to keep your car in that exact condition. If you ever need to sell her, you will want the best price for her. And if you'd like to keep her, she needs to maintain her performance levels so that she can make life exciting and fun for both of you. Regular service is the key to healthy vehicles.
If you live in Alderley Edge, Discovery Sport servicing is an essential part of your vehicle itinerary. If you drive the earliest model from 2014, you're just about due for an MOT. At Premier Garage Services, our prices are nearly half what you'd pay at a main dealer, and our service, tests, and diagnostics are just as good, if not better. We offer a 12 year warranty on all our parts as well as our mechanics. With over 25 years of experience, our labour and performance is top notch and your car is in good hands. If you're too busy to come by our garage in Stockport, we'll come to you. We'll pick your car, do all your servicing and repair, and bring her right back to you at no extra charge.
When it comes to Discovery Sport servicing in Chorlton, Premier Garage Services has an added advantage. The recent Block Exemption for European Union members means that we can repair and service your Discovery hassle free. You don't have to worry about voiding your warranty. Our services are accepted under your vehicle agreement. We can even provide a Service Stamp to validate your service book. It's all taken care of. So contact Premier Garage Services today so we can give your Discovery some tender loving care. And if her needs are a little more specific, like tyre replacement or wheel balancing, we'll take care of that too.