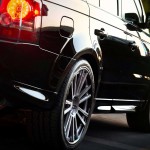 Land Rover vehicles are our speciality and Discovery 4 servicing in Alderley Edge is expertly carried out by our highly qualified technicians. Our workshops have the latest state of the art equipment especially made for use on the Discovery and Land Rover cars. Our diagnostic machine has software that will quickly establish if there are any faults with sensors or systems in your car. The machine can access the Land Rover technical data for wiring diagrams and any other details that may be needed. Parts can be quickly identified and ordered if we do not have the proper item in our extensive spares department.
The iconic Land Rover and Discovery are still made in the UK. In Alderley Edge, Discovery 4 servicing is done by our technicians who are all thoroughly trained in all makes and models of Land Rover, Range Rover and Discovery vehicles.  We believe in many cases that we have better trained staff and more technical equipment than many franchise dealerships. Our expertise also allows us to confidently work on even the oldest models of Land Rover. The Discovery 4 has been made in diesel and petrol models with different sized engines. This allows you to choose the vehicle that will suit your needs and family depending on how and where your vehicle will be used. The vehicle has a high ground clearance and is useful for driving on rough roads as well as on the motorway.
Your Discovery 4 servicing in Alderley Edge can be done from new by our garage. Contact Premier Garage Services today and book your vehicle in for maintenance and service by the experts. For over 25 years we have concentrated on repairing and servicing Land Rover vehicles including all the Range Rover and Discovery Range. We are able to service your vehicle from new and can update the service log to ensure your warranty remains valid. This can be done on a service book or it can be recorded on your online Land Rover Digital Service Record where appropriate. The diagnostic machine will tell the on board computer what service as carried out so that it can schedule the next service needed.