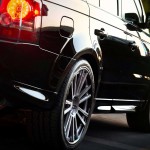 We offer a superb Freelander service in Stockport as we are Land Rover specialists. We believe we can offer more technical equipment than several franchise dealerships as well as having access to the best quality parts and most up to date service schedules. Our technicians all have extensive training by Land Rover and carry out your vehicles service in accordance with the manufacturer's recommendation. For vehicles over four year of age we can offer a budget priced vehicle servicing plan. We are confident that no matter the problem we will find and fix it economically and quickly.
You take good care of your health and would not go to a plumber for a check up. In Stockport, Freelander service is done by experts in all models of Land Rover. We specialise in all makes and models produced by Land Rover. We are an independent garage that specialises in Land Rover products including the Freelander. We have all the necessary equipment and tools to be able to service or repair any make or model produced by Land Rover. Our diagnostic machine is one of the latest state of the art models that can access Land Rovers technical library to obtain details on obscure parts and also the wiring diagrams of all their models. We are also happy to service the old original and basic Land Rover vehicles that do not have any technology.
Your Freelander service in Stockport is guaranteed to be special with our experts. Contact Premier Garage Services today and book your Land Rover, Freelander, Range Rover or Discovery in for a service. We have over 25 years of experience in service and repair of all Land Rover products and can assure you that we can offer the same service as a dealership at a fraction of the cost using genuine parts. We do not compromise on quality during a service or repair and take great care in helping you to maintain your British manufactured vehicle in its original condition. We are able to service your vehicle from new without compromising the warranty.