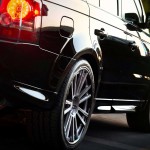 Land Rover Discovery 3 servicing in Bramhall carried out by Premier Garage Services is always done according to manufacturer's recommendation. The discovery was manufactured from 2004 to 2009 at which point the Discovery 4 hit the market. Not only do we specialise in Land Rover vehicles, we are particularly in tune with the Discovery 3. If you own one you are probably interested in keeping it well maintained and repaired to extend the life as long as possible. That's a wise move because if you bought it new, the price was high for this luxurious and jungle tough vehicle. Your vehicle is over four years old which means your Discovery 3 qualifies for our budget priced service plan.
It doesn't matter whether your Discovery 3 is a model S, SE or HSE because those are just different packages that don't affect performance. For those in Bramhall, Discovery 3 V6, V8 and turbo diesels are the 4-wheel drive power package. You may consider the purchase of a used Discovery 3. They are easy to find but we recommend you bring your potential choice to us so we can give it an all points check up. There are many which never saw an off-road trail and those will naturally be in the best condition. Discovery 3's used off-road were a beast that could hold its own under rough conditions. Having been driven hard that might not be your best choice. We can tell the difference and you should know exactly what you are buying.
Discovery 3 servicing in Bramhall will cost you up to 50% less than dealer costs when you bring it to us at Premier Garage Services. We offer warranties on parts and labour. You get service that is comparable if not better than your dealer offers. Our speciality is Land Rover service, repair and maintenance. We have been in business for 25 years and our techs are all Land Rover trained. Some of them have 25 years' experience. Contact Premier Garage Services when your Discovery 3 needs attention. We know the model like an old friend.