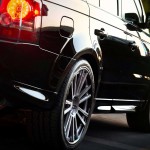 Get top-quality Range Rover servicing in Stockport from Premier Garage Services. We are proud of our reputation for providing our clients with personalised services tailored to meet individual needs, preferences and budget. With more than a quarter century's experience in the business, we provide local clients with a combination of international standards and the personalised touch. What sets us apart from other services in the area is our commitment to affordable services, excellent workmanship and our customer-centric approach. No matter how major or minor your needs, we're happy to oblige. Our knowledge, expertise and experience in handling a variety of makes and models of vehicles is unmatched. With the recent changes in the European Union legislation, we are glad to be able to offer top value Range Rover servicing without invalidating the manufacturer warranty.
Many people are unsure about the facilities offered by independent garages like ours. In Stockport, Range Rover servicing provided by us can match any franchisee or main dealership in terms of equipment, technical expertise and level of service. What makes our service stand out is that our services are available at a fraction of the main dealer or franchisee price bands. Since we have access to and use only genuine spares and authentic parts, that's something that you don't have to worry about either. Your luxury SUV is in good hands! These vehicles with their rugged, sturdy exteriors are the perfect choice for the adventure lover. What makes them even more attractive is the plush interiors, comfortable seating and generous leg-room. That's why the vehicle is so versatile – it's great for those off-roading experiences but equally fantastic for city driving and the daily commute.
When you bring in your vehicle to us for Range Rover servicing in Stockport, we also give you great tips and advice on how to make your driving experience better. For instance, not many people pay attention to the state of their tyres. If they're in a bad condition, this can certainly affect the quality of ride. To find out more about our Range Rover servicing, contact Premier Garage Services. We also offer a free collection and drop off for your convenience.