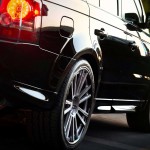 There is no shortage of garages offering Freelander servicing in Newtown but we at Premier Garage Services are confident that we are the best choice if you want specialised service without the high dealer prices. When we say specialised we mean that our technicians are Land Rover certified just like the ones at your dealer. Our diagnostic equipment is cutting edge; as good or better than dealers. We are skilled and equipped to service and repair any vehicle you may have but we especially are skilled on the various models and year of Range Rover. Each model, such as your Freelander, has unique attributes and we understand all of them. The age, new or old, doesn't matter. We can help you with any questions or concerns you have about your particular Freelander.
We want to make sure you understand how we work here at Premier Garage Services. In Newtown, Freelander servicing means according to manufacturer's recommendations. If you need parts replaced, we use genuine factory parts. However, you do have a choice. If your car is out of warranty and you want save some money, we source top quality aftermarket parts guaranteed to do the job. It's your choice. Now here's where the rubber hits the road; our costs are up to 50% less than your dealer charges for the exact same or sometimes better service. We buy the same parts and supplies, pay our technicians well and maintain a comfortable profit margin yet your costs are lower. What we don't do is pay exorbitant franchise, advertising and space leasing fees.
Freelander Servicing in Newtown at Premier Garage Services is not performed on an assembly line with time constraints. We take a careful look at everything as we perform your service and maintenance. Our customers have supported our garage for many years and we appreciate them. Friendly and courteous customer service is important to us. Contact Premier Garage Services or come by and we can give you quote. If you don't have time to bring your car in, we'll collect it and deliver it back to you at no extra charge. Or, schedule an appointment and we'll service your Freelander while you wait.