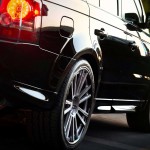 We offer excellent repairs and services of DPR Range Rover in Altrincham that are carried out by our experts. If you are going to take your very reliable car for repairs you want to be assured of the fact that it is to someone who knows what they are doing. We have over 25 years of experience with Land Rover vehicle repair and service. We also understand that it is sometimes difficult to get your car to the garage for a repair and this is why we offer a collection and delivery service to make the whole process easier for our customers. Our prices are far more affordable than a dealership and we can probably offer more technical equipment than some dealership garages. Your car is in expert hands with us.
When your vehicle has a problem in Altrincham, DPR Range Rover repairs are conveniently near at hand. Whatever the problem may be with your car we can rectify it and use only the highest standard parts.   We use the most up to date service schedules and are able to validate your service book or update the online Land Rover Digital Service Record where necessary.  Our Land Rover trained technicians are dedicated to making sure that your Land Rover receives the best possible treatment. When your car comes in for repair we will attach the car to the diagnostics machine.  This machine communicates to the vehicles onboard computer and sends the fault code back to the technician who then knows exactly where and what the fault is.  Once it has been established what the problem is the part can be replaced.
Having consistent maintenance and regular repairs to DPR Range Rover in Altrincham is an important part of keeping your vehicle in good condition.  Contact Premier Garage Services today and book your vehicle in for its next service. You will be amazed at the difference in service quality and price.  We are approximately 50 % cheaper than the dealer and offer the same service with the same high-quality manufacturer's spares. Your vehicle has passed the initial manufacturer's warranty but we can keep it in pristine condition.  This is one of the most popular Land Rover makes of vehicles and our technicians are well versed in problems and faults that may crop up.