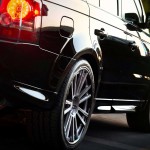 Our service and cleaning of the DPF Land Rover in Bramhall is essential to the well-being of your vehicle. The diesel particulate filter or DPF is essential to the control of emissions of your vehicle. The emission problem has become serious in most large towns and cities and the law is desperate to enforce emission control. Part of the problem is that some DPFs only self-clean when the vehicle reaches a high speed and driving around a congested area do not allow the vehicle to reach this speed.  We have the latest diagnostic machines which communicate with your Land Rover to tell us exactly what needs adjusting or replacing.  It will also reset any maintenance lights which have lit up on the dashboard.
Whether you drive your car on-road or off-road in Bramhall, DPF Land Rover cleaning by experienced and dedicated technicians is important. You need to have the DPF routinely cleaned to keep the vehicle in the best condition.  Our highly qualified technicians can clean or replace the DPF and will advise you on the optimum length of time or mileage between services for your particular vehicle. If you use your car off-road a lot then it will pay to have it checked for any damage or loosening of bolts which may occur when the car is driven on rough surfaces.  The Land Rover is built for this but it still needs to be checked.
Having consistent maintenance and regular DPF Land Rover in Bramhall is an important part of keeping your vehicle emissions below the regulation levels.  Contact Premier Garage Services today and book your vehicle in for its next service. You will be amazed at the difference in service quality and price.  We are approximately 50 % cheaper than the dealer and offer the same service with the same high quality manufacturers spares. Your vehicle may have passed the initial manufacturer's warranty but we can keep it in pristine condition.  This is one of the most popular British manufactured vehicles and our technicians are well versed in problems and faults that may crop up.