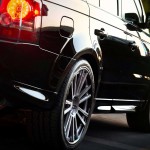 Premier Garage Services is your resource for engine management light Range Rover Evoque in Wilmslow. When that light comes on, you know something is wrong somewhere. You don't know what. Maybe one day soon the engine management light on vehicles will come equipped with a digital readout telling us what is wrong and what we should do about it. Right now, there are two options. One thing you can do is to schedule your Range Rover Evoque with us. We will use our diagnostic equipment to locate the fault and then make the repairs or adjustments. The other option is a popular one. You can do nothing when the engine light comes on and hope it goes away.
Even though it's exciting to see how long you can drive with the engine light on before the car quits, we don't recommend that option. In Wilmslow, engine management light Range Rover Evoque is indicating something is not working properly. It may be just a minor fault but it could be causing poor engine performance, increased fuel consumption or contributing to the deterioration of other parts. Yes, it could be a bad sensor but do you really want to bet on that? When your tyre pressure light comes on do you declare it wrong and continue driving without checking your tyre pressure? Of course you don't. Your engine light is there to help you keep your car running safely and efficiently for many miles. Show some appreciation.
When the engine management light Range Rover Evoque in Wilmslow lights up stop by our garage. Contact us and bring your Range Rover Evoque to us because we have specialised Range Rover diagnostic equipment that is the latest technology. We can use it to run a quick test for an indication of what the trouble is indicated by the warning light. We will likely know just from that diagnostic test the location and seriousness of the fault. You will know right away whether you have an emergency on your hands needing immediate attention to prevent further engine damage. Chances are you have some time to correct the problem. We'll schedule your car for service, give you a cost estimate and you can relax. Whatever the problem, you'll pay less with us than you would your dealer for the exact same level of expertise and service.