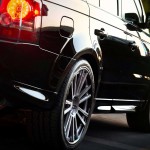 When you need expert advice or assistance with DPR Range Rover in Altrincham, get in touch with the specialists at Premier Garage Services. We are proud to say that we have more than a quarter century's experience in dealing with repairs, service and maintenance of the Land Rover range. With the latest legislation protocols, we are able to service your brand new vehicles without invalidating vehicle warranty. There may be several franchisees and main dealerships in the region, but we believe that we have superior technical capability, equipment and experience. We can also approve and stamp your service book, thus helping to create a historical record of good and regular maintenance for your vehicle. Most of our business comes to us via word of mouth recommendations from satisfied customers in and around the Cheshire area and beyond.
For motorists in Altrincham, DPR Range Rover cleaning, service and maintenance can be undertaken by our experienced team. Diesel engines produce different types of particulate matter that is a residue of incomplete combustion of the fuel/air mixture. This particulate matter is usually seen in the form of black soot particles. These particles enter the air around them and are inhaled by humans and animals. This is harmful to their health. The DPR (Diesel Particulate active Reduction) system in your vehicle traps particulate matter present in diesel exhaust gases. This is done with the help of a particulate matter filter that automatically regenerates the filter when the matter collects up to a certain level. An optimally functioning DPR system consists of a multiple fuel-injection system, engine electronics control unit, DPR cleaner, catalysed particulate filter and silencers. There are different filter technologies that help to reduce or eliminate the particulate matter being emitted by vehicles.
Keeping your DPR Range Rover in Altrincham in good condition helps to reduce pollution. Today, one of the major concerns is about the high level of air pollution in cities. Particulate matter emitted by vehicles can be of different sizes. The smaller the particles, the higher the health hazard, because these can easily enter your respiratory system and get lodged there. If you need assistance with DPR Range Rover, don't hesitate to contact Premier Garage Services. We will be happy to assist you.